Description
XiaoR GEEK TH-X crawler-type  smart robot tank with Raspberry Pi for educational
parameters
 Development board: Arduino UNO/STM32/Raspberry Pi
Camera: 720p HD camera
Driver board: PWR.X.A
Drive wheel: tank chassis wirth crawler type
Size: 305*255*308
Remote control mode: WiFi / Bluetooth / PS2 handle
Frequency range: 2.400-2.4835GHz
Programming language: Arduino-c/C/Python
Battery: 12.6V-2200mAh
Robotic arm: four degrees of freedom robotic arm
Motor: TT DC geared motor
Voice module: XR-YMPM3320
Motor driver: TB6612 dual-way motor driver
Power supply voltage: 12V lithium battery
Charging method: disassembly-free direct plug-in type
Wireless communication: support 802.11b/g/n protocol max 150Mbps.
Control platform: 1.Mobile APP2.PC client
3. PS2 handle
Signal range: ≤80m open distance
Note:Development board: Arduino UNO/ STM 32/Raspberry Pi. "/ "is to indicate that the TH-X is compatible with these three motherboards, it mean that those three types of development boards are available for this robot car. You can choose any types of the development boad by yourself requirments.
Notice:If some countries do not support battery transportation, we will provide a battery box + charger, and customers need to purchase the battery by themselves
Payment & Security
Payment
PayPal
The main Payment method is Paypal. If you have paypal, that is great. You can simply place order and check out with few steps. If you don't have Paypal account, you can register it and pay by Credit or Debit Card.
Pay with Paypal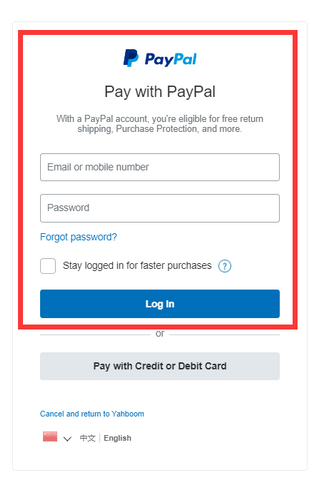 Pay with Credit or Debit Card
Your payment information is processed securely. We do not store credit card details nor have access to your credit card information.